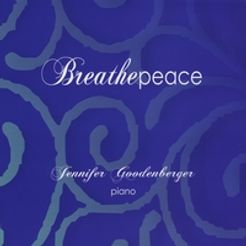 Breathe Peace
Original solo piano meditations to calm the body, still the mind, soothe the soul.
1. Morning Dew II (16:03)
2. Soft the Rain (16:10)
3. Mystical II (15:12)
4. Breathe Peace (14:55)
Total Time (62:30
)
Breathe Peace is transcendent, inspirational, meditative, moving, and deeply peaceful. It is ideal for healing, massage, yoga, prayer, falling asleep, and calming animals.  
The music for Breathe Peace was composed to create deep relaxation through held notes, silences, and simple melodies, harmonies and rhythms. The lengthy pieces allow the listener to rest on a bed of tranquility. Play Breathe Peace in hospitals, hospices, schools, homes, and shelters. Play Breathe Peace anywhere and for anyone in need of comfort. Breathe Peace will calm the body, still the mind, and soothe the soul.
Both Morning Dew II and Mystical II were previously recorded in 2002 on my 2nd CD, Mystical. For this album, they are handled differently. Each is recorded slower, has added extensions, and is of a much longer duration.
Recorded in August, 2009 at Dead Aunt Thelma's Recording Studio, Portland, OR, on a Steinway B Grand Piano. Sound engineer: Mike Moore. Graphic design by rd Graphx.