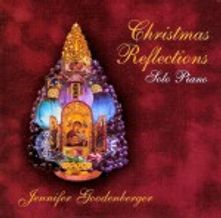 Christmas Reflections
Resonant and illuminating arrangements of 9 traditional carols for solo piano.
1. O Come, All Ye Faithful (4:16)
2. We Three Kings (2:58)
3. I Wonder As I Wander (4:30)
4. Ave Maria ( 3:33)
5. In the Bleak Midwinter/Lo, How a Rose (4:10)
6. O Come, O Come Emmanuel (3:50)
7. Jesus, Jesus, Rest Your Head (3:55)
8. That Night in Bethlehem ( 3:50)
9. Silent Night (5:00)
Total Time (35:35)
For each of these carols, I have taken the heart of each piece and added my own harmonies and meditative touches. The result is a blend of the traditional with the transcendent.
This CD is dedicated to my parents, John and Peggy, who filled our home with their love of music.
"The dimly-lit interior of Grace Episcopal Church was an appropriate setting for a Christmas concert by pianist Jennifer Goodenberger. With candles on either side of the piano and a bevy or small candles on top of the instrument, Goodenberger played the seasonally appropriate In the Bleak Mid-Winter. The picture conveyed by that hymn was reinforced by the gray sky outside."  Daily Astorian, 11/2007
Recorded in October, 2007 on a Kawai Grand,. Sound engineer, Josef Gault. Cover art by Jennifer Goodenberger. Graphic layout by rd Graphx.