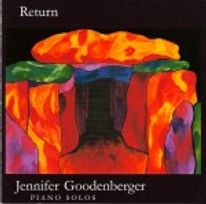 Return
Sensual and spiritual "Songs Without Words" for solo piano
1. Return (1:58)
2. Beginnings (2:52)
3. Song of the Stars (7:10)
4. Creation (3:40)
5. The Light Within (2:23)
6. Yearning (2:46)
7. Psalm 23 (3:59)
8. Grace (3:43)
9. Stonehenge (3:19)
10. Spirals (3:24)
11. Celtic Lullaby (2:41)
12. Return (1:58)
Total Time (40:04)
Return is my first-born. It is a collection of pieces written from 1981-1999. Some pieces were originally songs with lyrics that I then converted to piano solos. Some have every note written out, so like a classical piece, they are the same each time they are performed. Some have an element of improvisation, while others are completely improvised.
"The simplicity of one melody line against a series of chords can by subtle, emotional and powerful. Each piece conveys an emotion, introduces a new concept, and/or perhaps a new vehicle of opening. For those not interested in music as a spiritual source, Return makes for just plain beautiful listening
Return is a collection of pieces composed in the realm of healing, meditation and contemplation. While its modal quality and Celtic-based themes are a divergence from the classical tradition, the strength of composition and well-trained hands on the key are are a dead giveaway. What could be a 'classically trained' detriment to a free form style, on the contrary, enhances the musical quality on many levels – from rich harmonies to mature, emotionally-charged melodic ideas."  Dinah Urell, Hipfish Monthly, May 2002.
Return
I return to my inner journey,
The pilgrimage of my heart,
The transformation of my spirit.
I return along the flower trail,
Along the Milky Way
to my beginnings,
Where the stars which sing
are like the Pleiades,
united in harmony.
Creation flows in ribbons of inspiration.
The light within illuminates me.
Yearning enfolds me.
Music envelops me.
Color enlightens me.
In green pastures and beside still waters
Grace restores my soul.
Within a circle of standing stones
I dance the spirals of my life.
I sing a lullabye
that cradles
my return journey home.
Recorded in March 1999 on a Schimmel grand piano. Sound engineer, Tom Jiroudek. Artwork by Jennifer Goodenberger. Graphic design by Cheth Rowe.