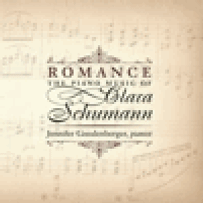 Romance: The Piano Music of Clara Schumann
Art is a beautiful gift.
What is more beautiful than to clothe one's feelings in sound.
What a pleasure to provide an hour of happiness to others.
And what a sublime feeling to pursue art so that one gives one's life for it.
Clara Wieck Schumann (1819-1896) has been revered by musicians and called the "Superwoman" of the 19th century. An outstanding concert pianist, whose active performing career spanned 60 years, she was also a composer of remarkable promise. Married at 21 to composer Robert Schumann, Clara continued to perform while managing career, household, husband and eight children. Widowed at 37, she was a lifelong exponent of her husband's compositions, as well as those of her close friend, Johannes Brahms.
In her unique long-lived role in music history, Clara Schumann was always her own person, perceiving herself as an artist, who was also a woman. She was eternally grateful for the art that was to sustain her through a lifetime of tragedy and triumph.
For more information about Clara, read "Clara Schumann: The Artist and the Woman" by Nancy Reich.
1. Romance in A minor, Op. 20/1 (6:00)
A popular genre of questionable standing, Clara ennobled the Romance, raising it to become a serious lyrical piano piece.
2 - 3. Prelude and Fugue in G minor, Op. 16, no. 1 (2:25 - 3:09)

4 - 5. Prelude and Fugue in Bb major, Op. 16, no. 2 (2:37 – 2:19)

6 - 7. Prelude and Fugue in D minor, Op. 16. no. 3 (2:24 – 2:42)

"In spite of the labor, I saw what I had never thought to see, a fugue of my own." One week following the composition of these works, Clara's third child was born.
8. Impromptu in E major (1844) (3:37) Published for the first time in a French anthology of music in 1885, its next publication was in 1985.
9. Romance in B minor (1856)  (5:36)  Composed by Brahms' 22nd birthday while he was visiting Robert at the mental asylum, Clara wrote, "It's tone is sad, but I was sad when I wrote it."
10. Variations on a Theme by Robert Schumann, Op. 20  (14:04) These variations on Robert's Bunte Blatter, op. 99 were composed for his 43rd birthday. Brahms also composed variations on this theme.
Recorded 1995 by Tom Jiroudek, at the Columbia River Maritime Museum, and Clatstop Community College Performing Arts Center, both in Astoria, OR. Originally released on cassette tape in 1995.
Re-edited, re-mastered, in 2014 by Mike Moore at Dead Aunt Thelma's Recording Studio, Portland, OR. Re-released on CD on Clara's 195th birthday, September 13, 2014.  Total Time (45:00)

© 1995/2014 Jennifer Goodenberger JAG-2266