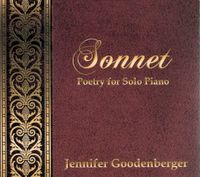 Sonnet: Poetry for Solo Piano
Poema 3:05

O Mysterium 5:11

Evensong 5:29

Meditation 4:53

Romance 4:26

Aubade 5:37

Reverie 6:01

Remembrance 4:19

Sonnet 3:52
       Total Time 43:44
All of the original compositions on Sonnet were either inspired poems by May Sarton and Emily Dickinson, or is and of itself a poem. Much of the music was originally composed in the 1980's as songs in the Classical tradition. I wrote the following poem for the CD booklet which expresses my feelings about music.
Sonnet
O Music beyond language, You are all
Rhythm, melody, harmony
Uniting in sonorous communion
A concord of thought, feeling, dream
In and from the beginning, waiting to be heard
O Music, You are one, the voice individual
Caressed by fingers weaving sound within
Joy and heartbreak, mystery and reverie
Silence and rubato pulse
Solo and song, art and inspiration
O Music, listen, and hear my heart and poet's soul
Note by note, sound by sound
In and from the beginning, You are all
O Music beyond language, I am yours
Sonnet was recorded at Dead Aunt Thelma's Recording Studio in Portland, OR on July 29, 2013 by Mike Moore.
Poema – Composed in the summer of 2006, I gave the piece the Latin form of the word "poem" because I thought it was such a lovely word.

O Mysterium was originally recorded on my CD, Breathe Peace, under the title "Soft the Rain". This recording is handled differently with more dynamics, emotion, and is 5 minutes instead of 15.
Evensong was originally composed in 1986 as part of a song-cycle for Soprano and Piano based on poems by May Sarton. For this CD I reconfigured the piece for solo piano. The original poem was entitled Evening Music.
Meditation was originally the title cut on my CD, Breathe Peace. For this recording it was shortened, and played with dynamics and emotion.
An Aubade is a genre of poetry which describes lovers parting at dawn. This piece was inspired by the poem "He Was Weak" by Emily Dickinson. It was originally composed as part of a Song-cycle in 1988 for Soprano and Violin.
Romance was named after a type of Romantic Era instrumental piece. It was composed in 2002, and originally named "Song of Farewell."
Reverie was part of the 1986 May Sarton song. It was inspired by the poem "The Clavichord," and has the feeling of intimacy and quiet that is created by playing a clavichord.
Remembrance is part of the 1988 Emily Dickinson Song-cycle. It is based on the poem, "Heart, We Will Forget Him."
Sonnet is also part of the Emily Dickinson Song-cycle. It is based on her poem, "Love, Thou Art High."