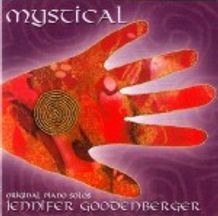 Mystical
A transformational musical journey of original piano solos.
1. Blessing (2:57)
2. Mystical (5:41)
3. Spirals II (4:34)
4. Morning Dew (2:58)
5. Avalon (3:49)
6. Vision Quest (6:02)
7. The Search (3:21)
8. Faith (3:08)
9. Desert Desire (3:37)
10. Peace (4:03)
11. Blessing (2:57)
Total Time (43:14)
Mystical was recorded in a North Coast living room in one 10 hour session. All tracks but one are a version of piano improvisation, with complex harmonic progressions. The idea is there, the melody concept is there, the chords are there. It's essentially like being given a jazz chart. What I do with it is different every time.
"Mystical represents a relationship to the piano as a performance instrument. A heightened energy and quality of improv shines through, at times reminiscent of improv pianist, Keith Jarrett. Even some of the playing techniques on Mystical seem new, and call on an emerging part of Goodenberger as a performance pianist."   

Dinah Urell, Hipfish Monthly, May 2002.
Beyond the mystic mystery
Beyond the unknown senses
Spiral spin the wheel of life
Breathing in and breathing out
Searching, hoping, faithing, loving
Searching desert's mythic shores
Morning vision, raised hand blessing
Peace be ever yours.
Recorded in March, 2002 on a Kawai Grand. Sound engineer, Cheth Rowe. Artwork by Jennifer Goodenberger.